Göreme is at the center of Cappadocia, and upon your arrival, you will instantly see that the village embodies the ideal balance between nature and humankind.
The village is surrounded by fairy chimneys, rock structures, captivating valleys, and rolling hills.
Additionally, the village is enriched even further by its unique cave hotels, restaurants with magnificent views, a variety of antiques, beautifully crafted carpets, and gift shops, all contributing to its distinct character.
Located within the triangle formed by Avanos, Uchisar, and Urgup, Göreme is approximately a 10-minute drive from each.
The Göreme Open Air Museum is one of the key attractions in Göreme, and was added to the UNESCO World Heritage Sites list in 1985. The museum is a 15-minute walk from the center of Göreme and is also included as part of the North Cappadocia Tour.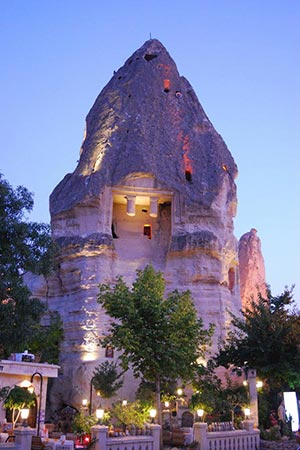 Göreme is home to many rock-cut tombs, some of which are situated far from the center and therefore receive less attention.
The tomb in the picture is located just behind the bus station. Despite some broken columns, it still appears monumental. Today, this tomb, which is illuminated at night, serves as a symbol of Göreme.
History of Göreme
The earliest written record of Göreme dates back to the 6th century and refers to the village as Korama. This is the oldest known name for the area.
According to the document, St. Hieron was born in Korama at the end of the 3rd century and was martyred in Melitene (the ancient name of Malatya) along with thirty of his friends. His hand was cut off and sent to his mother in Korama.
A large depiction of St. Hieron of Korama can be found in the Tokali (Buckle) Church located in the Göreme Open Air Museum.
It is believed that during the Roman period, the people of Vanessa (the ancient name of Avanos) used Göreme and its surrounding areas as a cemetery, and this is supported by the numerous tombs found in the region.
The increased frequency of Arabian attacks in the 7th century forced Christians, particularly those from Kayseri, to move to Göreme. During this period, over 400 churches were built in the area.
Göreme was also once known as Matiana (Country of Ma, the Mother Goddess).
In the Ottoman period, the village saw significant growth and was renamed Maccan (after Saint Hieron's mother).
The name Maccan was later changed to Avcilar (Hunters), and finally to Göreme in 1975.